International Year of Chemistry Symposium
:2011/10/7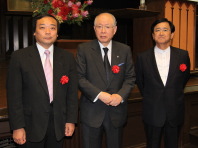 Mr. Takayuki Ueda, Dr. Ryoji Noyori and Mr. Yoshimitsu Kobayashi (from the left)
IYC Symposium "What would be conditions for chemistry to lead the next generation?" was held on 28th September at Yasuda Hall in The University of Tokyo. Dr. Ryoji Noyori, President of Riken, Mr. Yoshimitsu Kobayashi, President of Mitsubishi Chemical Holdings Corporation, Mr. Takayuki Ueda, Director General of Manufacturing Industries Bureau, METI spoke each of their point of view on tasks and possibility of future development of chemistry and chemical industries in Japan. Around 450 audiences consisting of research workers, industry people and students listened earnestly.
After the symposium, exchange of opinions and information among lecturers, students, academicians, and industry people were observed everywhere.

Photo-album
Dr. Yoshie Souma in the award ceremony for "Distinguished Women in Chemistry/ Chemical Engineering"
:2011/8/5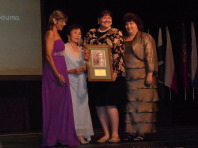 A snap-shot of Dr. Souma just after the reception of the prize

Award Ceremony for "Distinguished Women in Chemistry/ Chemical Engineering" was held on August 2nd during the General Assembly of IUPAC in Puerto Rico, where Dr. Yoshie Souma was among the recipients of the award. The ceremony started around 6:30 p.m. with audience of 200 to 300 people. First, a one-man play to recall the life of Marie Curie was performed - a very impressive story from her birth to around 1902.
Presentation of the award started around 7:45 and awardees were called to stage one by one in the alphabetical order of their nation. Though it took up to 9 o'clock to finish all of them, most people remained to celebrate the awardees.
After the ceremony, a small party was given for Dr. Souma by mainly Japanese people.
(Nobuyuki Kawashima, Executive Director of The Chemical Society of Japan)

Distinguished Women in Chemistry/Chemical Engineering

Achivement of Awardees

Play of Madam Curie:video on-line

Photo-album(Japanese)
Distinguished Women in Chemistry Award to Yoshie Soma

:2011/7/14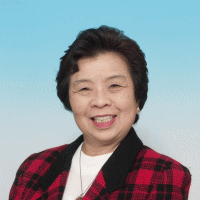 Dr. Yoshie Souma
Coinciding with the International Year of Chemistry, IUPAC created the "Distinguished Women in Chemistry" award for women chemists with a superb professional record in chemistry and chemical engineering. In Japan, Yoshie Soma received this award. Her outstanding record of catalyst research, educating female chemists, and her broad range of activity have been recognized with this award. From Israel, winner of the 2009 Nobel Prize in Chemistry, Ada Yonath, from Thailand H.R.H. Princess Chulabhorn Mahidol, and 20 other women chemists from 16 countries were selected. On August 2nd, the awards will be presented at the IUPAC general meeting in Puerto Rico.
(Chemical Society of Japan IYC Committee)

Distinguished Women in Chemistry Award to Yoshie Soma (Japanese)

Distinguished Women in Chemistry/Chemical Engineering

The list of winners
Madam Curie and Tamagawa Hotspring
:2011/7/13
published date:2011/01/01
Author:Mizue Kissho (Science Sutudio Marie)
First appearance:Kagaku to Kogyo│ Vol.64-1 January 2011
What if Marie Curie used hokutolite?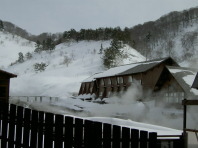 Tamagawa Hotspring

I recently visited Tamagawa Onsen, a famous radium hotspring, in Akita prefecture. In Japan, Futamata Radium Onsen (Hokkaido), Masutomi Onsen (Yamanashi), and Miasa Onsen (Tottori) are known as radium hotsprings. Tamagawa Onsen, along with Beitou Hotspring in Taiwan, are the only two places in the world known to produce hokutolite (Ba, Pb)SO4, and are designated as Natural Monuments.
If one speaks of radium, one speaks of Madam Curie. She traced Becquerel rays. Hence, she predicted that unknown elements existed in the highly radioactive ore pitchblende, and this she quantitatively measured with an electrical device invented by Curie brothers. The two new elements, polonium and radium, were discovered in pitchblende in 1898. In 1902, the beautiful blue-white glowing element, atomic number 88, radium, was successfully isolated. Obtaining 0.1 g of radium through fractional crystallization from 8 tons of pitchblende required 3 years and 9 months of toil. What of Marie Curie had used hokutolite instead?
(Mizue Kissho)
Kazuko Ogino is awarded the FACS Chemistry Education Prize
:2011/7/11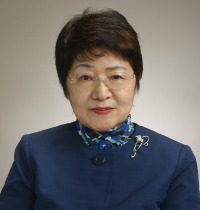 Professor Kazuko Ogino
The Federation of Asian Chemical Societies (FACS) recognizes contributors to the development of chemistry and chemical engineering with five different awards. This year, the FACS Distinguished Contribution to Chemical Education Award 2011 was awarded to Kazuko Ogino (Tohoku University Medical Technology College Distinguished Professor) The award will be presented at the 14th Asian Chemical Society Meeting held in Bankok, Thailand, from the 5th to the 8th of September.
(Chemical Society of Japan IYC Committee Member)

FACS Award winners (Japanese)

FACS official site

14th Asian Chemical Congress 2011
Film "Samurai Chemist: the Life of Joukichi Takamine"
:2011/6/1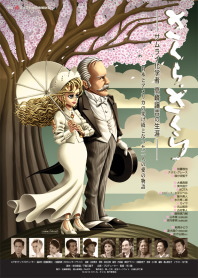 Movie poster of "Sakura Sakura"
This is a dramatic presentation on film of the biography of Joukichi Takamine, a scientist who contributed greatly to medical development and played a leading role in providing a gift of cherry trees to Washington DC. In addition to discovering takadiesterase, still used medicinally, Takamine was a bridge between Japan and the United States during the tumultuous Meiji era, and was seen as a world leading chemist.
(Chemical Society of Japan IYC committee)

Official Site of this Film (Japanese)
Chemistry Cards Element Edition
:2011/6/1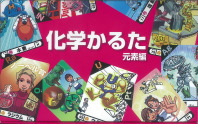 Chemistry Cards Element Edition
In order to help children discover the fun and fascination of chemistry, the Dream Chemistry 21 committee has prepared "Chemistry Cards, Element Edition". Of the approximately 110 elements 48 well-known elements were selected and illustrated on cards along with easily understood characteristics and uses. Henceforth, it is planned that they will be used in regional classroom laboratories.
(Chemical Society of Japan IYC Committee)

How to play, Chemistry Cards (Japanese)
Chemical Heritage
:2011/6/1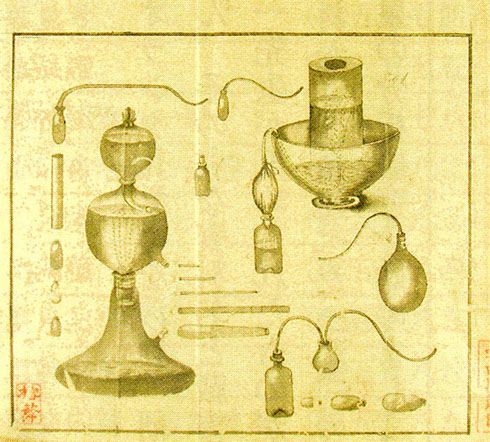 The first recognized legacy; Illustration of a Kipp's gas generator by Yôan Udagawa
Every year the Chemical Heritage Committee holds "Chemical Legacy Recognition". Through recognition of particularly valuable moments in the history of chemistry, they are passed on to the next generation as cultural and industrial legacies and are useful for further development.
(Chemical Society of Japan)

Official site of Chemical Heritage Committee (Japanese)
Madam Curie and the Black Rock
:2011/6/1
published date:2011/02/01
Author:Mizue Kissho (Science Sutudio Marie)
First appearance:Kagaku to Kogyo│ Vol.64-2 February 2011
100th anniversary of Madam Curie's Nobel Prize in Chemistry
Madam Curie has been called the Radium Woman, and along with Einstein is one of the great scientists of the 20th century. Discovering in the uranium ore pitchblende, two more highly radioactive elements, polonium (Po) and radium (Ra), she was the first woman Nobel laureate as well as the first person to win two Nobel prizes (1903 in physics, 1911 in chemistry). Madam Curie was not only devoted to research, but also to childhood education, and with her research colleagues held a class "Madam Curie's Science Classroom". In that classroom, children were immersed in the scientific way of thinking and their intellectual curiosity was greatly stimulated. A young girl in that class, Isabel, became a chemist, which was uncommon at that time. Marie Curie's daughter Elena continued her mother's research and she too received a Nobel Prize. Of the 840 Nobel laureates up to 2010, they are the only mother and daughter to win the Prize.
New Highly Radioactive Materials in Pitchblende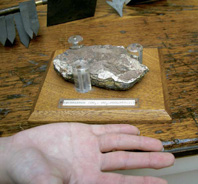 PECHBLENDE(UO3, UO2, PbO, etc)
Photograph by author, at Universite Pierre and Marie Curie
According to experiment notes on 16 December 1897 Madam Curie and her brother Pierre began measuring radioactivity with an electrical device they invented. At first they examined white uranium powder, gold, copper, and ten other simple elements. On 17 February 1898 they analyzed the heavy, black, ore pitchblende. On the 24th of February they analyzed eschynite, which although contains thorium, does not contain uranium, and found radiation stronger than either. On 18 March 1898 a second notebook was started, and a uranium ore similar to pitchblende, thucholite, was tested. On 9 April Madam Curie repeatedly analyzed pure uranium and three different varieties of pitchblende, and confirmed radiation sources 2, 3, and 4 times stronger than uranium. Three days later, on 12 April, she presented a paper to the academy. The following Thursday the Curies crushed 100 grams of pitchblende and began isolating the mystery element. On 26 December 1898 she reported in one manuscript the discovery of the new radioactive element, radium.
Madam Curie's interest in minerals
Madam Curie's interest was attracted to radiation by radioactive elements. Colleagues who ventured to other countries were asked to look for radioactive ores and send them back to the laboratory collection. A Czech from the research institute accompanied Amundsen to the North Pole and returned with mineral samples. A contributor to the January issue of this journal introduced in an article the famous radium hotspring, Tamagawa Onsen, "What if Madam Curie had known about hakutolite?" In her childhood when she was affectionately called Manya, the book loving, filled with curiosity little girl looked at the mineral book in the cabinet in her father's study, and the exciting rock samples and the strange black pitchblende from the following years overlapped.
(Mizue Kissho)