Opening of International Year of Chemistry "Chemistry-our life, our future"
:2011/01
Launch ceremony held at UNSESCO headquarters
From countries throughout the world, scientists, professional society representatives, industrial leaders, and representatives from government assembled in Paris and launched the International Year of Chemistry. Through two days of special and keynote lectures and socializing, the IYC was celebrated.
World's largest chemistry gathering with 12,700 participants
About 12,700 people from 72 countries participated in the world's largest gathering of the chemistry community held every five years. Posters, presentations, conferences, and events on a grand scale were held on the eve of the IYC.

The official website of PACIFICHEM2010
The IYC International Women's Networking Event in Japan
:2011/1
A gathering of Japanese women chemists was held
A large number of women are active in the world of chemistry. On January 18th, women in chemistry met on the net to commemorate the IYC. In Japan, a tea party was held at the Chemistry Hall.

Gender Equality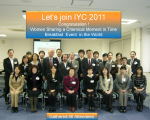 The tea party
Japan/Germany Chemistry Symposium
:2011/6
Japan/Germany exchange 150th anniversary discussion by prominent chemists
This year, the International Year of Chemistry, is also the 150th year of a trade agreement between Germany and Japan. In order to commemorate this, the Chemical Society of Japan and the German Chemical Society jointly held a special symposium on June 20th inviting prominent researchers. Ten prominent chemists, including recipients of the 2001 Nobel Prize in Chemistry, Professors Noyori and Sharpless, 1988 recipient of the Nobel Prize in Chemistry, Professor Michel, as well as recipient of the prize last year, Professor Suzuki took part in this event.
Presentations will be published and a description of the symposium can be found on the web.

Virtual Online Events

Photo Album
43rd International Chemistry Olympiad
:2011/7
Chemistry celebration of high school students from throughout the world
The International Chemistry Olympiad is an event aimed at high school students where they can compete on the basis of chemical knowledge and problem solving ability. Not just a test of chemical knowledge, excursions and parties are also held, making this event a place for international exchange for future chemists.
This year it was held in Ankara, Turkey on July 8-18 and four representatives from Japan attended.
Kouki Uratani, Shiga Prefectural Zensho High School won gold medal, while Saori Kirihara, Hokkaido Sapporo West High School, Hayate Saito, Nada High School, and Tomohiro Fukushima, Rikkyo Ikebukuro High School, won silver medals. Thus all of them received medals and Uratani and Saito acquired medals for two consecutive years.

43rd International Chemistry Olympiad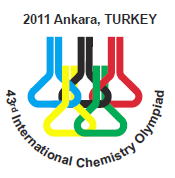 Logo of 43rd International Chemistry Olympiad
National High School Chemistry Gran Prix 2011
:2011/7-10
Chemistry competition open to anyone high school age and younger
The first round is a written test with mark-sheets, followed by a descriptive exam based on experiments at this camp style event. Participants with the top five cumulative scores are awarded prizes, with gold, silver, and bronze awards being given to places one through three. Furthermore, as many as 20 candidates for representative to the International Chemistry Olympiad for the following year are elected. After the tests and experiments, tasks are prepared with the intent of discovering where chemical knowledge is utilized and how fundamental science learned in textbooks is applied, thereby differing from solving typical problems at school or in entrance exams by allowing the participants to experience chemistry.
1st round selection: 18 July 2011, 55 regional venues
2nd round selection: 19-20 August 2011, Keio University, Nichiyoshi Campus
Award Ceremony: 1 October 2011, The Chemical Society of Japan

Announcement in Homepage(Japanese)
Marie Curie Poster Exhibition
:2011/7-8
Original Poster to commemorate IYC
Original posters are prepared by Curie Museum and Curie Institute in commemoration of International Year of Chemistry. Precious posters, only one set of which is available for each country, are exhibited with Japanese captions.
During the exhibition, a chemical experimental show will be held by science minded girls group "Akaringo-tai" (Red apple group) for elementary school children.
21 July to 30 August, Noyori Material Science Laboratory, Nagoya University, Nagoya

Curie museum (Institut Curie)

Photo Album
Japan Regional Chemistry Summer Events
:2011/7〜9
Chemistry events during summer holidays will be held in various places in Japan
Those who would like to take children to a place where they enjoy chemistry in a relaxed manner this summer, please take a look at the summer vacation events prepared by the regional divisions of The Chemical Society.
Furthermore we have made a list of chemistry and science museums as well as sites useful for personal research. By all means take advantage of a fun summer vacation.

Regional special events (Japanese)

Summer vacation useful sites (Japanese)
Special Exhibition by the Women Archive Center
:2011/8-11
Walking with Chemistry - From women who challenged to women who are challenging
Progress of chemistry in our country in relation with the work of woman chemists is introduced as well as woman Nobel Laureates such as Marie Curie and her daughter Elena.
Laboratory notebooks of Madam Curie and an experimental kit of Dr. Kazuko Ogino, who received the FACS educational award, are displayed.
29 August to 6 November at National Woman's Education Center (Saitama prefecture)
Admission: free

National Women's Education Center, Japan

Special Exhibition by the Women Archive Center (Japanese)
Plant tour at Ube Group Thailand
:2011/9
Asia-Japanese academia-industry-government exchange
The 14th Asian Chemical Congress is held from September 5 in Bangkok and a plant tour will be conducted inviting Japanese participants to the congress to Ube Group Thailand on September 9 and 10, just after the congress. The event is jointly organized by Ube Industries LTD. and The Chemical Society of Japan with respect to the International Year of Chemistry for the purpose of promoting academia-industry-government exchange among Asian and Japanese people.
9 and 10 September at Ube Group Thailand (Rayong Province)

UBE Group Thailand

Plant tour at Ube Group Thailand (Japanese)
Special Exhibition: Japanese Chemists
:2011/11
4 Japanese Chemists, who established Chemistry in Japan
Jouji Sakurai, Kikunae Ikeda, Umetaro Suzuki and Toshiyuki Majima are taken as founders of modern chemical research in Japan and their exchange with other people from adaption of western science to establishment of our own research facilities that enabled us to start our own original research is traced.
23 September to 11 December at the National Museum of Nature and Science (Ueno, Tokyo)

National Museum of Nature and Science

Special Exhibition: Japanese Chemists (Japanese)
International Year of Chemistry Commemorative Symposium
:2011/9
Under what conditions will chemistry lead to the future?
A symposium under the unified theme of the IYC, "Chemistry- our life, our future" is currently being planned. Details will be announced as they become available.
Planned for Wednesday afternoon, 28 September, in Tokyo.

Symposium Poster (Japanese)
International Year of Chemistry Symposium and Lectures by The Chemical Daily
:2011/10
Exploring the possibilities of the future through the relationship between chemistry and society
Through IYC projects, future possibilities through the relationship between chemistry and society will be broadly presented in an appealing fashion and currently preparations are being made in earnest. Details will be made available on our HP as they become available.
27-28 October from 10:00 am, Integrated Learning Center, Tokyo, Hitotsubashi
"Your Magic - It's Chemistry!" Exhibition
:2011/11
A chemistry exhibition where everyone can make "new" discoveries
This is being implemented with the aim of connecting it with a regular chemistry exhibit. We are currently investigating displays that can be provided by industry. Introduction to museums throughout the country are planned to take place from this autumn. As details become available, they will be announced on the HP.
From the end of November at the Nihon Kagaku Miraikan, Tokyo
Dream Chemistry 21 Children's Chemistry Experiment Show
:2011/11
There is a mountain of exciting events!!
There are a variety of events planned for experiencing the mystery and fascination of chemistry in the laboratory, but largest scale event is the "Summer Vacation Children's Chemistry Experiment Show". This event will feature many exciting events such as "Chemistry Experiment Corner" and "Chemistry Magic Show" where participants take part in experiments rarely conducted in school and experience the mysteries of chemistry!!
26-27 November, Nihon Kagaku Miraikan (Tokyo)
CSJ Chemistry Festa
:2011/11
Beginning this year, the CSJ Chemistry Fest will be held.
From this year, the CSJ Chemistry Fest will be held. This year the role chemistry must play with respect to the problems resulting from the East Japan Earthquake will be explored as well experiencing the purpose of the IYC. Several plans are underway for "First CSJ Chemistry Fest 2011 International Year of Chemistry Commemorative Meet".
13-15 November, Okuma hall, Waseda University, Tokyo